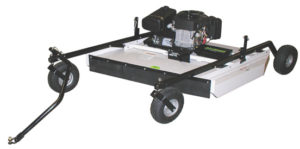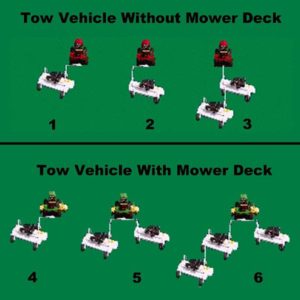 Features

Large Gas Tank
3-1/4 Gallon gas tank that provides about 3 to 3-1/2 hours of run time.


Blade Engagement
The mower uses a manual lever engagement system.

Height Adjustment
The cutting height is easily adjusted from 2″ – 8″ by turning two cranks.


Large Engines
The AcrEase Rough Cut Mowers come with large 23 HP electric start engines.


Four Tire Design
The four tire design used on the AcrEase provides a great deal of stability and allows the mower to traverse very rough ground. The four tire design also allows the AcrEase to use a free pivoting tongue which eliminates bind ups. The design also places the tires within the width of the deck allowing for an obstruction free trim edge on both sides of the mower.


Deck Design
The main deck is built out of 10 GA (.135″) thick steel with a 1/4″ thick steel top plate for reinforcement. An additional 1/4″ thick steel plate is welded in the blade spindle mounting location. The three layers of steel in the blade spindle mounting area add up to just over 5/8″ thick.


Tow Bar
The tow bar features a farm clevis type connection. This system provides more degrees of motion than most types of hitching systems. This is necessary to prevent binding in rough uneven terrain.


Blade Spindles and Twin Blades
The blade spindles used on the AcrEase mowers are built out of heavy-duty welded steel hubs, 30mm (1-3/16″) steel shafts, machined steel blade holders and large sealed ball bearings. The twin blade design on the AcrEase provides more of a mulch action that reduces the size of the clippings and reduces bunching.
Specifications
Engine

Cutting Deck

Engine Make
Briggs & Stratton
Number of Blades
2 -30"
Engine Model
Commercial Turf Twin
Blade Tip Speed (ft/min)
19,000
Engine HP
23
Cutting Width
57"
Lubrication Method
Pressure w/ Filter
Cutting Height
2.0" – 8.0"
Electric Start
Yes
Height Adjustment Method
Two Cranks
Fuel Tank Size
3 gal.
Blade Engagement Clutch
Manual
Hour Meter/Tachometer
Optional
Deck Metal Thickness
10 GA
Deck Top Plate Thickness
2 Separate ¼" Plates

Dimensions

Miscellaneous

Weight
580 lbs.
Drive Method
1 B Section "V" Belt
Pneumatic Fixed Rear Tire
15/600X6, 4 ply Tubeless
Class Mower
Rough Cut (Rear Discharge)
Front Tires on Casters
5.30/4.50X6, 4 ply Tubeless