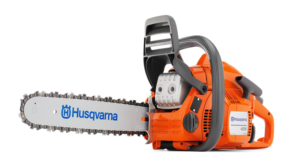 Features

X-Torq®
Delivers lower fuel consumption and reduced exhaust emission levels in accordance with the world´s most stringent environmental regulations.


Air Injection
Centrifugal air cleaning system removes larger dust and debris particles before reaching the air filter. This results in reduced air filter cleanings and improved engine life.

LowVib®
System designed to reduce vibration levels to the operator, which lessens fatigue.


Snap-Lock Cylinder Cover
Saves time when changing spark plugs and cleaning.
Specifications
Engine

Power output
2.2 hp
Cylinder displacement
2.5 cu.inch
Maximum power speed
9,000 rpm
Idling speed
2,900 rpm
Clutch engagement speed (±120)
4,300 rpm
Fuel consumption
652 g/kWh
Electrode gap
0.02 in
Ignition module air gap
0.01 in
Oil pump type
Fixed flow

Emission

Exhaust emissions (CO2 EU V)
813 g/kWh

Equipment

Bar length (inch)
16 in
Recommended bar length, min
13 in
Recommended bar length, max
18 in
Chain type
SP33G
Gauge
.050″
Pitch
.325″
Sprocket type
Spur 7

Dimensions

Weight (excl. cutting equipment)
9.7 lbs

Lubricant

Oil tank volume
0.53 US pint
Oil tank volume
0.25 l

Sound and Noise

Sound power level, guaranteed (LWA)
114 dB(A)
Sound power level, measured
112 dB(A)
Sound pressure level at operators ear
102 dB(A)

Vibration

Equivalent vibration level (ahv, eq) front handle
3.8 m/s²
Equivalent vibration level (ahv, eq) rear handle
4.2 m/s²