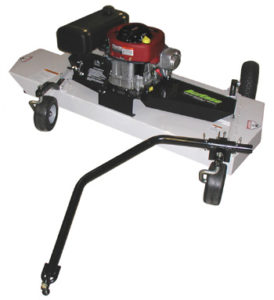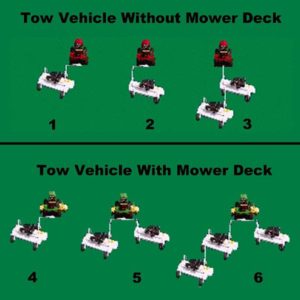 Features

Large Gas Tank
3 Gal gas tank that provides about 3 – 3-1/2 hours of run time.


Blade Spindles
The blade spindles used on the AcrEase are built out of heavy duty welded steel hubs, 25 mm (1″) shafts and large greasable bearings.


Height Adjustment
The mower features a 4-point height adjust system that has a cutting height range of 1″ – 4″.


Large Engines
The AcrEase Finish Cut Mowers come with large 19 HP electric start engines.


Low Profile Design
The low profile design of the AcrEase makes it very easy to mow under low branch trees. There is no need to get beat by branches when the AcrEase is attached to the side of the tow vehicle.


Blade Engagement
The mower  is equipped with a centrifugal clutch for blade engagement. The centrifugal clutch is engaged by simply increasing the rpm of the engine.


Hitching
The AcrEase Finish Cut Mowers have two different types of hitching available. These are the Lawn & Garden Hitching which works best with riding mowers and zero turn mowers and the ATV Tongue which works best with tow vehicles that do not have their own mowing deck. With the Lawn & Garden Hitching there are a variety of ways that multiple wing mowers can be pulled.


Deck Design
The AcrEase deck is the heaviest built in the industry. The main deck is built out of 11 GA (.120″) thick steel with an 11 GA (.120″) thick steel top reinforcement plate. The deck design also features a wide side discharge, deep deck design and 3-20″ blades which are inline. All of these features increase capacity and cut quality. Other standard features are 6 anti-scalp wheels and a front and rear safety zone.
Specifications
Engine

Cutting Deck

Engine Make
Briggs & Stratton
Number of Blades
3 -20"
Engine Model
Intek Professional OHV
Blade Tip Speed (ft/min)
17,500
Engine HP
19
Cutting Width
58"
Lubrication Method
Partial Pressure w/ Filter
Cutting Height
1.0" – 4.0"
Electric Start
Yes
Blade Engagement Clutch
Centrifugal
Fuel Tank Size
3 gal.
Clutch Engagement Speed
1850 rpm
Hour Meter/Tachometer
No
Deck Metal Thickness
11 GA
Deck Top Plate Thickness
11 GA

Dimensions

Miscellaneous

Weight
325 lbs.
Drive Method
1 B Section "V" Belt
Pneumatic Fixed Rear Tire
13/500X6, 2 ply Turf
Class Mower
Homeowner
Front Tires on Casters
9/350X4, Slick (Flat Proof Urethane)
# of Anti-Scalp Wheels Under Deck
6 (4 Front, 2 Rear)