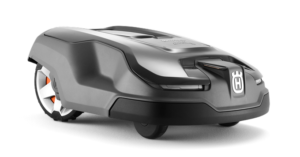 Features
Automower® Connect
Automower® Connect gives you full control of the mower right in your smartphone. You can easily send start, stop and park commands, check and adjust settings. If required also receive alarms and track your mower's position in case of theft – wherever you are.
10 years mobile data contract included. Standard on X-line, optional for all 300-400 series.
GPS-assisted navigation - PATENTED
An onboard GPS system creates a map of the garden, including where the boundary and guide wires are installed. Husqvarna Automower® will then register which parts of the garden it has covered and adjusts its mowing pattern accordingly. This will ensure optimized lawn coverage and an excellent cutting result.
LED headlights
Energy-efficient LED headlights for better visibility and control even in the dark. The lights will also start flashing if a malfunction occurs.
Ultra-silent drive
Wheel motors with 2 step gearboxes, a new technology that enables ultra-silent drive. Gives an outstanding performance in perceived noise level and enables night time operation or 24/7 mowing in all kind of neighborhoods.
Specifications
Capacity

Lawn Size (±20)
0.8 acre
Maximum slope performance at boundary
9 °
Charging system
Automatic
Search system
Quadsearch
Follow guide
2
Area capacity per hour
1,432 ft²

Cutting Deck

Cutting width
9.45 in

Product Data

Weight
28.7 lbs
Product size length
28.3 in
Product size width
22 in
Product size height
12.2 in
Color
Grey
Battery type
Li-Ion
Battery capacity
5 Ah
Charging current
4.2 A
Typical charging time
50 min

Cutting System

Cutting system
3 pivoting razor blades
Cutting height, min (approximate)
0.8 in
Cutting height, max (approximate)
2.4 in

Control

Connectivity
Bluetooth®, Cellular
Firmware Update
Dealer Service

Safety

Typical mow time on one charge
145 min
GPS Theft tracking
Yes
PIN code
Yes
Alarm
Yes
User Interface
Keypad and display/App
Lift sensor
Yes
Tilt sensor
Yes
Ultrasonic sensor
No