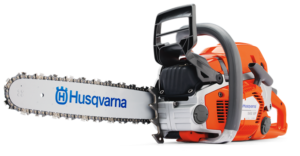 Features

RevBoost™
Rapid acceleration and higher chain speed for best limbing performance.


Flip-up Tank Cap
The flip-up tank cap is easy to open and close when refueling.

AutoTune
AutoTune gives optimal engine performance throughout automatic engine setting.
No time spent on carburetor adjustments. It compensates for different fuels, altitude, humidity, temperature and clogged air filter.


X-Torq®
Delivers lower fuel consumption and reduced exhaust emission levels in accordance with the world´s most stringent environmental regulations.
Specifications
Engine

Power output
4.7 hp
Cylinder displacement
3.65 cu.inch
Maximum power speed
9,600 rpm
Idling speed
2,800 rpm
Torque, max.
3.65 Nm
Torque, max. at rpm
8,100 rpm
Clutch engagement speed (±120)
4,300 rpm
Fuel consumption
494 g/kWh
Fuel consumption
3.84 lbs/h
Spark plug
NGK CMR6H
Electrode gap
0.02 in
Ignition module air gap
0.01 in

Emission

Exhaust emissions (CO2 EU V)
777 g/kWh

Equipment

Bar length (inch)
18 in, 20 in, 24 in, 28 in
Recommended bar length, min
15 in
Recommended bar length, max
28 in
Chain type
C83, C85
Gauge
.058″
Pitch
3/8″

Dimensions

Weight (excl. cutting equipment)
13.4 lbs

Lubricant

Lubricant type (Engine)
Husqvarna 2 stroke or equiv. at 50:1
Oil tank volume
0.7 US pint
Oil tank volume
0.33 l

Sound and Noise

Sound power level, guaranteed (LWA)
118 dB(A)
Sound power level, measured
116 dB(A)
Sound pressure level at operators ear
106 dB(A)

Vibration

Equivalent vibration level (ahv, eq) front handle
3.2 m/s²
Equivalent vibration level (ahv, eq) rear handle
5 m/s²