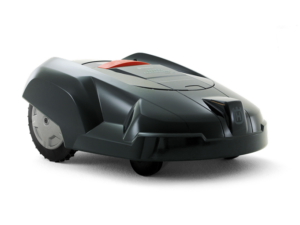 Features
  
Reliability
Robotic lawn mowing is all about reliability.  Husqvarna has during 20 years of development refined its mower concept to achieve the highest level of reliability, quality and cutting result, with a minimum of assistance.


Excellent Cutting Results
Thanks to the free movement pattern of Husqvarna Automower® the lawn is perfectly cut, achieving a beautiful and carpet-like look.  The razor-sharp blades cut the grass gently from all directions, helping it to grow strong.  Moss growth is effectively prevented.


Weather Timer
Adjusts the working time to the lawn's growth rate, meaning that Husqvarna Automower® will maximize its mowing time during periods of strong grass growth.  In sunny or dry weather, or late in the season, the mower will spend less time mowing, which decreases wear on lawn and mower.


Unique Cutting System
Husqvarna Automower® cuts just a little but frequently, which assures a nice and healthy lawn. It is equipped with sharp razor-like blades made of strong carbon steel mounted on a robust cutting disc system. This provides for efficient operation and extremely low energy consumption.
Specifications
Capacity

 

Cutting Deck

Working Area Capacity (±20)
.5 Acre
Cutting System
3 Pivoting Razor Blades
Charging System
Automatic
Cutting Width
8.7 in
Maximum Incline at Boundary Wire
10%
Cutting Height, max (approx.)
2.4 in
Cutting Height, min (approx.)
0.8 in

Dimensions

 

Battery

Color
Green
Battery Type
NiMH
Weight
19.8 lbs
Typical Charging Time
45 min
Product Size Height
11.8  in
Typical Mow Time on 1 Charge
45 min
Product Size Length
28 in
Mean Energy Consumption at Max Use
0.5 Acre
Product Size Width
21.6 in
Power Consumption During Cutting
30 W
 
 
 
 

Equipment

Sound & Noise

Keypad
19 Buttons
Sound Level Guaranteed
63 dB(A)
Information Panel
LCD Display w/ Settings Menu
Timer
Yes
Handle Type
Integrated
Wheel Threads
Medium
Alarm
Medium
PIN Code
Yes
Installation Lock
Yes
Time Lock
Yes
Lift Sensor
Yes
Tilt Sensor
Yes
Extra Blades
9 pcs
Loop Wire
820 ft
Staples
200 pcs
Packaging Height
13.78 in
Packaging Length
37.4 in
Packaging Width
26.38 in